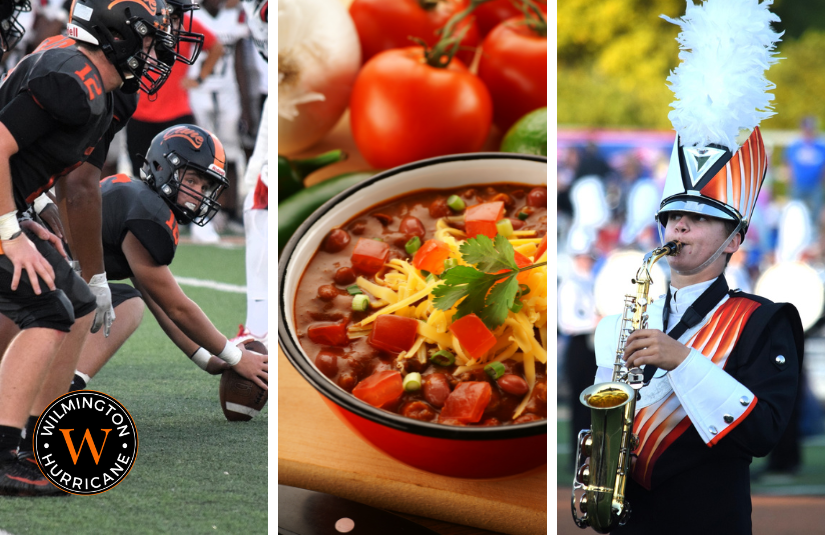 Join us for Homecoming 2023! From Spirit Week activities and a parade, to our traditional Chili Supper and the big game, it's going to be a great time to show your Hurricane pride!
Thursday, 10/5/23, at 6:30pm - Homecoming Parade, see details (pdf)
Community Pep Rally at Alumni Field following the parade
Friday, 10/6/23 from 4:00-6:30pm - 67th Annual Chili Supper in the WHS Auditeria

The Wilmington Band program is proud to host one of the longest-running traditions in Wilmington. We welcome everyone to join us for our traditional Band Chili Supper as WHS celebrates Homecoming 2023.
Each meal is $7 and includes a Bowl of Chili, Hotdog, Applesauce or Coleslaw, a Dessert, and a Drink
Tickets available from current WHS Band members, at the door, or online at wilmingtonbands.ludus.com .

Friday, 10/6/23 at 7:00pm - Homecoming game vs Goshen
Saturday, 10/7/23 - WHS Homecoming Dance
NOTE: We are also inviting Alumni Band members to play with the Marching Band during halftime! They can register using our online form here.
Go Cane!