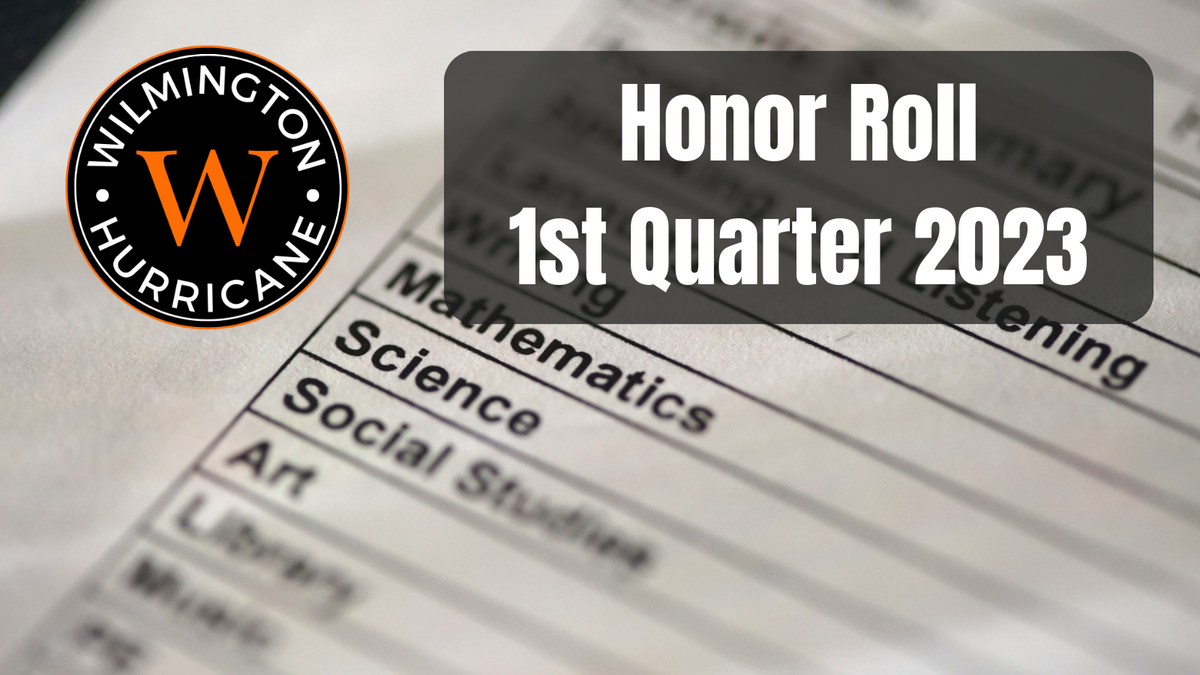 Congratulations!
We are #HurricaneProud of these students for making the Honor Roll for 1st Quarter 2023!
Wilmington Middle School
The following students are on the Honor Roll for 1st Quarter (3.5-4.0):
Sixth Grade
Elaina Achtermann, Cameron Adams, Arayia Akers, Dalton Allen, Khaleeq Andrews, Lanelle Arrington, Aiden Ashcraft, Samantha Ayers, Stephanie Bailey, Benjamin Bechard, Joseph Bennett, Evan Blair, Brionna Boyd, Isabella Burwinkel, Kenzie Carrier, Isabela Castillo, Lilah Cooper, Emma Cox, Kyliee Crawford, Titan Craycraft, Nefertari Criss, Matthew Davis, Juliana Diels, Zoe-Jane Downing, Nova Fall, Lily Fliehman, Christian Garcia, Wyatt Griffith, Mia Groves, Violet Gunther, Isaiah Hall, Bria Hayes, Kinverlin Hernandez-Helo, Briley Hoggatt, Aubrey Huelskamp, Haylon Hufford, Alayna Irwin, Noah Irwin, John Johnson, Luther Johnson, Quinton Jones, Jaron Keplinger, Scott Kirk, Emilee Langoehr, Annalysa Lechner, Elijah Long, Emerson Looft, Everlee Looft, McKenna Marconet, Kenne Maxwell, Cameron McFarland, Yalaina Medley, Emmie Milby, Mya Milliner, Jensen Mueller, Kiley Murphy, Marly Owens, Charlii Peacock, Fernando Perez, Harley Perkins, Braxton Pierce, Alyssa Pitzer, Liam Powell, Mesa Prell, Saleena Price, Kirra Priest, Chance Rawlings, Braxton Reed, Lee Rethmel, Aliyah Rhonemus, Sophia Roe, Nicole Ruhl, Karrson Scarberry, Zachary Schunk, Olivia Seiler, Carly Sexton, Riley Smith, Shayleigh Stewart, Halley Striggles, Van Sung, Sophie Swick, Kyle Thompson, Jack Umstead, Gavin VanVorce, Alexandria Varvel, Kathryn Villa, Austin Wagenseller, Lila Wagenseller, Brooklyn Warnock, Anna Whaley, Ardella Willison, Chloe Wilson, Jasmine Woods, Cole Woody, Barrett Wulff, and Abigail Yost.
Seventh Grade
Collin Abbitt, Peniel Adigun, Juniper Alsip, Isabela Alvarez-Soto, Reagan Angelica, Mia Barr, Madilyn Bell, Chanel Brown-Lopez, Olivia Burns, Trinidy Campbell, Max Carmack, Clara Coates, Jaidyn Collier, Xander Combs, Natalie Connor, Lauren Cornett, Gavin Cox, McKynlei Cramton, Heavenly Csaszar, Kaiden Davis, Addison Deemer, Alexis Donaldson, Maezie Furnas, Hope Goins, Gracie Goodwin, Nevaeh Groves, Lukas Hollon, Bailey Huff, Ella Hull, Jasper Jones, Gracie Jump, Joy Ledford, Ava Lohrey, Justin Maerean, Andrea Manzo, Larkyn Mellinger, Maranda Merriman, Annalise Miller, Kaylin Murnane, Kiley Murnane, Harper Patterson, Isabella Perez, Abigail Puckett, Max Roby, Brady Roe, Elizabeth Rogers, Hezekiah Roush, Bristyl Ruddle, Serenity Sheppheard, Ava Simpson, Kaitlyn Smith, Kella Smith, Zyrah Smith, Emelia Stewart, Caleb Sweetman, Temperance Taylor, Avery Treisch, Breslin Washington, Jackson Wisecup, Braden Young, Griffin Zeigler, and Jillian Zeigler.
Eighth Grade
Alia Aber, Afnan Ahmed, Paige Allgood, Gabriel Baker, John Bean, Jude Belle-Cokes, Carter Bicknell, Emily Blakey, Karlie Breedlove, Kaelyn Brooks, Jesse Brown, Autumn Byrd, Sarah Campos, Nickolas Clark, Elliot Conarroe, Claire Connor, Roman Cucculelli, Lariyah Dalton, Parker Dean, Knox Earich, Ivy Engel, Marisa Estle, Colt Fisher, Bryson Freeman, Rodney Goings, Beau Griffith, Wyatt Gross, Kara Groves, Peyton Groves, Cecilia Hackney, Jo'Lese Harpen, Kanai Harris, Mileigh Hollingsworth, Alexander Huesca, Lilly Jarrells, Arihanna Johnson, Emily Keniston, Ashton King, Alayna Klontz, Drake Latham, Vivian Latham, Tripp Maples, Gunnar Martin, Zophina Maxwell, Lucy McCarty, Caleb McClanahan, Landen Milliner, Mykah Mothersole, Kaden Murnane, Ava Naylor, Heidi Newton, Brendan Norris, Edward Perez, Madison Rayson, Evan Robles De La Torre, Braxton Ruddle, Scott Ruoff, Laila Salisbury, Abigail Sears, Ansley Seeger, Serenity Smith, Charlee Steadman, Alysse Stewart. Colton Stonebraker, Gracen Storer, Kraven Tackett, Alexander Trenary, Ethan Villa, Eleanor Willison, and Gabrielle Wilson.
Wilmington High School
The following students are on the A/B Honor Roll for 1st Quarter:
9th Grade
Brooklyn Adams, Kyla Adams, Kalynn Allbright, Taryn Allen, Benjamin Angelica, Micah Armstrong, Kaiden Bach, Damian Bell-Simpson, Alexa Benitez, Ioan Cioca, Kierra Cole, Kyliee Cole, Lindsey Cook, Teegan Craycraft, Devin Cunningham, Melanie Cunningham, Adessa DAvidson, Makenna Dorsch, Trevin Doyle, Mollie Edison, Kara Ellis, John Thomas Estep, Isabella Ewing, Alexis Fisher, Kaylee Fulton, Emily Goodwin, Makelynn Harris, Josiah Hazelbaker, Hunter Holbert, De'Ja Holley, Chelsie Hollon, Aunestie Hudson, Freya Hunter, Zander Johnson, Rayven Latham, Annabelle Maher, Matthew Manson, Addison Martin, Max McCoy, Morgan Mertz, Brylei Mitchell, Elaine Molt, Jackson Morris, Alexis Murphy, Alianna Nance, Miya Nance, Gabriella Newkirk, Mackenzi Oeder, Braxtin Plymire, Alanna Puckett, Josiah Puller, Antony Puz Siquinajay, Xavier Quallen, Brody Reynolds, Isabelle Rhoads, Reagan Rhoads, Samual Roby, Lynn Rogers, Carter Shanks, Cooper Short, Stella Short, Isabella Smith, Abigail Spradlin, Autumn Spradling, Kolton Spurlock, Mia Stanforth, Lexi Stern, Serenity Stroop, Landon Thiel, Keagan Trout, Michala Welch, Kermit Whitt, Holden Wulff, and Ben Zerguit.
10th Grade
Brycen Allgood, Peyton Allgood, Emily Andrews, Caidan Armstrong, Meiley Black, Emma Brooks, Lucy Butcher, Hunter Byrd, Veronica Calderone, Brynn Conley, Gavin Coulter, Samarra Crawford, Scarlett Cucculelli, Felicity Cunningham, Zaniah Davis, Lauren Diels, Jace Doyle, Maria Emmenegger, Espi Espinel, Chase Fickert, Andrew Flanigan, Gracie Gerard, Giovanni Gonzalez Solis, Gideon Hackney, Kameryn Harris, Keely Hensley, Mia Hollingsworth, Abbie Hubbard, Reid Hunter, Brealyn Jackson, Hayden Johnson, Logan Johnson, Lucas Johnson, Lillian Keniston, Kaliana Kennedy, Zoe Klaue, Jalynn Klover, Hayden Metcalfe, Lucas Miller, Thomas Neanover, Gregory Niederbaumer, Allison Oeder, Gabrielle Peters, Jenna Pletcher, Brydin Plymire, Carissa Preston, Alexa Rich, Elijah Stewart, William Tackett, Brady Tolliver, Jacob Vance, Sarah Vizcaya, Sara Weller, Justin Wooten, and Brennen Zeigler.
11th Grade
Luke Achtermann, Emma Adams, Joseph Beckett, Alexander Beckett, Sydney Bennett, Gracie Bowman, Ashlynn Breedlove, Jase Bryant, Sabrina Campos, Sylar Carson, Sofia Castillo, Arabella Earley, Kylie Fisher, Mia Ganz, Elena Gatti, Reagan Henry, William Hildebrandt, Eli Hildebrandt, Eden Hill, Kaleb Hogsett, Layna Holmes, Nicholas Kaufman, Maia McKinley, Dakota Maleszewski, Elle Martin, Levi Otto, Kensey Parker, Aven Patel, Eli Payne, Kailey Pfister, Fiona Powell, Samantha Reynolds, Layla Reynolds, Brylin Ruddle, Jordan Rulon, Paisley Scott, Dominic Storer, Zachary Storer, Cody Teegardin, Aidynn Tippett, Bryce Vilvens, Aiden Walker, Sophie Wilson, and Colin Wood.
12th Grade
Robert Allen, Jaydin Applegate, Addison Beckett, Allison Beekman, Taliah Billingsley, Nevaeh Blackburn, Kyrie Bowles, Madilyn Brausch, Michael Brown, Brynnley Bryant, Colt Byrd, Carley Calvin, Levi Cochran, Noah Conarroe, Olivia Cunningham, Kathryn Curry, Jonathan Custis, Lilly Davison, Ashley Delph, Caydn Denniston, Bailee Drake, Kameron Drake, Skyla Edwards, Landon Flint, Elizabeth Gray, Blake Gregory, Anthony Hatten, Josie Heys, Kaden Kennedy, Lyla Kirk, Lindsay Lydy, Oliver McDermott, PJ McKnight, Jose Morales, Savannah Morris, Keiana Murdock, Izabella Myburgh, Talen Oberlin, Cristian Perez, Peyton Pence, Bryson Platt, Briston Plymire, Trey Reed, Reagen Reese, Danielle Riley, Ciarah Rittenhouse, Haley Schneder, Hannah Scott, Landon Scott, Logan Shumaker, Addyson Smith, Kelsey Spradlin, Christopher Stewart, Wilson Sylvestre, Michael Stone, Makenna Tolliver, Conner Walters, Shamya Wilson, Steven Wood, and Preston Zeigler